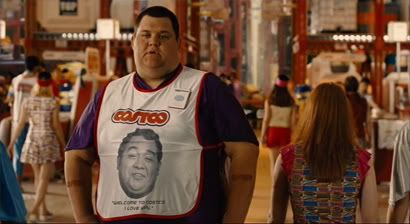 ... is the baleful phrase,
can I help someone?
(In all its fractured, remixed but indifferent forms:
how may I be of service, can I help you, how may we best assist you today
, but none with the anonymous starkness of the
someone
.) To harness it, perhaps: the sheer volume of breath expelled in speaking these words every day turning windmills across the midwest...
Nothing new about this, of course. Nothing worth noting other than the fact of nothing worth noting. Yet in that way, an inroad into thinking about the "popular," far beyond the stock phrases of ingrained capitalist experience and more, returning to that old Brecht problem, toward what we take to be "popular" and toward the question of the need to bother thinking about pop music or film or all the rest. (Reality TV is excluded: no degree of air, hot or otherwise, should be used in the service of perpetuating any illusion that America cares who Frank the Entertainer will choose for shady basement sex, despite indications to the contrary.)
That said, the basic structure of the competition reality TV show makes clear the basic structure of the false popular. It is the witnessing of a choice already made. The show has already been filmed months ago, the perfect couple has already went their separate spray-tanned ways, and the gig is up. There never was a choice. To be cheaply allegorical, in the impoverishment of pseudo-democratic political choice (as if it was ever particularly there), what better figure than that of the elimination show choice already made because it was choiceless, the managed unfolding that is there to be watched as if it is happening in real time, with real consequences.
Oh no, he's down to two potential lovers...
Why care at all? Indeed, so much of criticism and analysis just transforms
banal shit
into
banal shit with an essay written about it
. Further, it is predicated upon the false logic that because it is popular, it is indicative of a general mindset and Zeitgeist, or that if it is widely consumed (even with the recognition that it is because of ease of access), it still represents a fundamental choice of the herd. The doubled form:
people in this era like this sort of thing and therefore it's the sort of thing made available,
or
this is the sort of thing made available and therefore people start to like some it, weeding out the crowd of imitators
.
General critique of the culture industry, subtle accounts of market research and Toyotist cultural production, longer durée trendlines of genres and content patterns, and shifts in media forms all aside, we should stress the simple fact of simple repetition. "Liking" becomes a secondary characteristic in the face of the onslaught of the repeated, quantity let loose, swarms of snatches of songs, images, and phrases. That's to say that in the inverted causes for production mentioned above (at what point does the supposed crucial fact of "liking" as the crux of being popularly consumed occur?), the more accurate term is simply "accustomed to," "used to." There are, of course, fields of exceptions, pop things whose quality isn't just a transformation of quantity, where you come to dig the deluge or seek out the perfectly crafted mass object. (Which itself can lead to some nasty tendencies of the imagined virtuoso, the master of the esoteric yet accessible playlist, the one with the correct blade to cut through the thick and find the pop gems worth saving and studying. Not to doubt that there are plenty of such gems, though. Just because our liking doesn't concretely determine what comes before us again and again doesn't mean liking is irrelevant.)
The sole point here is to bring forth what is the genuine enemy of that "unpopular popular culture" of a combative people, around which I've been circling recently. If that unpopular popular is a project to be still developed, a
project of rejection
, its rejection is not of the easy banality of bad consumer choice, of ignorant sheep who vote with dollars and "don't know better." Rather, the crushing force of the truly
banal
, rooted
etymologically
(from French
ban
, and further back to Middle English meanings of "command" and Serbo-Croatian forms, via Turkish, of "lord" or "ruler") in compulsory feudal service, as what is compulsorily in common or to be a common duty. As such, attached to objects, it is not the radical
project
of "the commons" - which can only ever be a
project
, an offensive defense of what is not yet there - but the communal as designation of it not belonging to anyone who uses it or is hailed beneath it, and especially not belonging to everyone. That is to say, the real opposition is between the
popular
(the unpopular project of rejection of the given) and the
accepted
(the "popular" rejection of projects beyond the replication of what is given).
[Sidenote: Our cultural practices and productions, our aesthetics and relations to all this are necessarily informed by such a conception, particularly insofar as we maintain a commitment - or alternateyl commit to leaving behind the public sphere of culture - to forms that are "accessible." Where I stand on this remains unstable, though I want to return, at another time, to something China M said to me in response to a disagreement about anamorphosis and fiction, regarding dropping a "lodestone of the weird" in the middle of popular forms. Longer, perhaps nerdier aesthetic theory debate, but it's worth considering the degree to which doing requires maintaining "popular" formal elements, or if, as Brecht defending formal experimentation in the service of injunctive/instructive theater, what is objected to is not the spice (or cooking method, or other metaphors for formal treatment) but the rotten meat that the spices can only dress up so far. China's example would seem to imply something like a very good cut of meat, spiced accordingly, but shot through with a taste so irreconcilable with the general act of thoughtless eating that all distorts around us, the meat grows new bones, our tongue feels thick in our mouths...]
Such a repetition of the given is fundamentally a flattening, an emptying out of sense, a washing down to un-notice. Yet when the phrase hangs for a moment too long unanswered - as did the occasion for these thoughts in general, a coffee shop worker asking if she could help someone, to which no one responded, even as everyone was waiting "to be helped" - boils over with sense, and the senselessness of its repetition, of it being spoken in scattered chorus. Such is the sense of the accepted popular: the content of its popularity is just the content of repetition itself, and the lived action of estrangement. So that what is a genuine question, while situated, with no great weight of desperation or utopian kernel, just a practical declaration of the need for the line of coffee drinkers to move forward and be served, comes to take on near Beckettian weight. And our minds - or my mind - flees to thoughts of the impulse buried within, some cry out to help or be helped, to break the locks of social custom, at once brought out and declawed by the muteness of repetition. But this would be mistaken. If it has the content of a scream, or of the selfless gesture, it has near nothing to do with the seeming plaintive meaning (
can't I help change anything, can't my grasp reach something grasping back, can't it be mutual from the start
). It is the form of the question as unnecessary repetition itself, the fact that it becomes "popular" and groundless by being ground into the flatness of everyday interaction, no more or less personal than a factory's lost metallic din. In the absence of its volume, its perfunctory tone and its volume of general quantity - the unled, scattered, pseudo-communal chorus raising voices at once but not together - becomes that roar of self-doubt, far and wide, and everywhere banal.